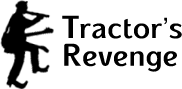 When I was asked to write a letter of recommendation for
Eldad Bobvrovich I felt helpless…
How would I be able to put in words, all of my gratitude and
appreciation?
All of the creativeness, dedication, delving into details and
above all the attentiveness and ongoing dialogues were not
obvious. Ahhh and the speed the work happens in!
Thank you Eldad, for the professional attitude
and amazing creativity that never compromised
your warm personality.
Avi Belleli and the "Tractor's Revenge" team
Ofir, Galia, Aviv and Roie
www.tractorsrevenge.com